Transfers to Verbier from Geneva Airport take just under two hours. That means when you book your private transfer through Mountain Drop-offs, you can be in this top Swiss ski resort in time for apres-ski. The '4 Vallees' is the largest ski area in Switzerland, combining Nendaz, Veysonnaz, Thyon and La Tzoumaz, with Verbier sitting pretty right in the middle of it all, which is where most of our Swiss Alps transfer clients head straight for.
'Verbs', as the regulars call it, really is a superlative ski resort, offering high altitude skiing and boarding for all levels, set in a well set out Swiss mountain village with a modern lift system. This is where the rich, the famous and the royals come to ski and party. And yes, it's expensive, but no more so than the high-end resorts of the Three Valleys in France. Let us tell you a bit more about why Verbier is so great.
Guide section
Verbier Destination Guide
Loving Verbier's super slick Swiss efficiency
As you might expect from the Swiss, everything in Verbier is pretty slick, with over 90 lifts offering a not-too-shabby 410km of pistes. We've been snowboarding in Verbier as early as the 6th November and the season runs well into April, with something for everyone (including a slick lift system for all, which is nice!).
Any budding freestylers will love the snowparks at Verbier. The biggest is by the Chaux Express chairlift. Some of the jumps and modules are gigantic and only for serious freestyle contenders, but there are more gentle obstacles to tackle too, as well as boarder/skier cross tracks.
Novice skiers will love the sunny slopes on the Savoleyres side of Verbier. Beginners should head for Les Esserts up at the Carrefour terminus of the bus, with sunshine, bars, restaurants and a free drag lift to boot. This is also where night skiing takes place during the main holiday season and in the daytime, you can take the Mayentzet lift to directly join the main Ruinettes sector.
Try Verbier's Jumbo cable car 
A Verbier 'must do' is taking the Jumbo cable car up to col des Gentianes and then the second cable car right up to the top of Mont Fort, where you feel like you're on top of the world with views of the Matterhorn on one side and Mont Blanc on the other. The cable car totally lives up to its name. It is ENORMOUS and you could easily park a couple of Mountain Drop-offs transfer buses in there, no problem.
A secret spot that's not so secret anymore is Bruson, on the opposite side of the valley to Verbier. The direct bubble lift from Le Chable opened in 2013, so now it's easy peasy to access this area without needing a car (another good reason to leave your car at home and take an MDO transfer to Verbier!).
You'll need deep pockets for the Verbier apres-ski scene
Off the slopes, Verbier has gained a reputation for its apres-ski. Some of the bars are so posh that you'll need a healthy bank balance for a night out, with stories of mojitos costing £50 and the most expensive cocktail ringing on the cash tills at a cool£5000. Whilst those sort of places are strictly for celebs and Russian oligarchs, there are popular apres-ski bars such as Pub Mont Fort, Offshore and Fer a Cheval which will keep you entertained after a hard day's skiing.
You might even spot a celeb or two in amongst the crowds. The likes of James Blunt (Verbier's much loved musical son who even has a plaque on the side of the Attelas chairlift as he officially opened it!), Harry and Wills (no more Dad dancing please), Hugh Grant, Phil Collins and Diana Ross are all Verbier regulars.
Activities section
Things to do around Verbier
Beyond Verbier's legendary apres-ski scene
Would you believe there's actually more to Verbier than just awesome skiing and Champagne-fuelled apres-ski? Verbier certainly has everything in place to welcome not just extreme skiers and apres-skiers, but also beginners, non-skiers and little people too. After the vibrancy of winter, Verbier is admittedly pretty quiet inter season, but then summer kicks in with the usual mix of mountain biking, hiking and even a dash of classical music and horse riding competitions too. Here's our pick of must-do things to do in Verbier throughout the year.
content-activities.php
Eat a Swiss raclette. OK, it spoils all the calorie-burning sports you've been doing, but this traditional melted cheese dish with potatoes and cured meats is sublime. Especially if the cheese is made from the milk of the local Herens cows. Pretty much every traditional mountain restaurant and resort eatery will have raclette on the menu, so go on, give the cheesiness a go!
content-activities.php
Summer time climbing fun. Tackle some serious sport climbing in and around Verbier once the snow has melted. Families will love the via ferret at Col des Gentianes. There's excellent sport climbing at La Barme, La Pierre Avoi and at Madzeiria down in the valley (val de Bagnes) near Chable. Routes on offer are from 3 to 7+ and you don't need a lift pass to access them.
content-activities.php
It's downhill heaven in Verbier, as the resort and the Four Valleys as a whole has invested a lot in mountain biking. Medran lift is the basecamp for bikers, from where you can catch the lifts to access and take on some of the 200km of mountain biking trails, which lead right back to base at Medran. The Verbier Bike Park has an excellent reputation, offering freestyle trials biking fun and hosting the annual Verbier Mountain Bike Festival at the end of August/early September every year.
content-activities.php
Slide down those Verbier slopes! The dedicated 'piste de luge' at Savoyleyres is like an extreme version of the leisurely sport of sledging. It's basically a ski piste that's been set aside for sledging. It's a whopping 10km long and takes you all the way from the very summit of the Savoyleyres resort area, right down to La Tzoumaz bubble lift. Thoroughly exhilarating stuff that'll give non-skiers that Verbier big mountain experience too!
content-activities.php
Eat a pizza on the piste courtesy of James Blunt, Lawrence Dallaglio and Carl Fogarty! Head to 'La Vache' bar and restaurant at the top of the Attelas chair, where this trio invested in and helped launch the restaurant. It's a firm favourite with Brits (Royalty included, ahem..here's looking at you Wills!) and you can get there without having to go on skies too.
content-activities.php
It's the perfect scenario for families with the high-mountain soft play area in the basement snack bar at Le Dahu restaurant. Take the bubble part of the dual Chaux Express lift by taking the escalator up from Ruinettes and head with babies and toddlers to 'Le Break' on the lower floor of Le Dahu restaurant. Here you'll find a big terrace area with lovely views and inside there's a room with a soft play area for kids. It means parents can take it in turns to ski and watch the little ones. Non-skiing grand parents can get there too!
content-activities.php
Banned in France, Switzerland is the place to go for a bit of glamorous heliskiing fun. A guide is essential for an off-piste adventure like this and you can book at any of the ski schools or guiding schools in Verbier like Adrenaline. Ski away from the crowds at drops like Trient glacier, Wildhorn or Pigne d'Arolla to name just three of the popular itineraries accessed by helicopter. It's not cheap and not very environmentally friendly either, but you can off-set it a bit by grouping together to take a Mountain Drop-offs transfer to Verbier!
content-activities.php
The Cabane Mont Fort is easily accessible from the Gentiane side of Verbier, so you can do that high mountain adventure thing without even having to do any ski touring or uphill stuff. It's open in the day for food and as a refuge for overnight stays. Just imagine the amazing views as the sun goes down, knowing you're the last people on the Verbier pistes and the first on them the following morning.
Events section
Upcoming Events around Verbier
Verbier, oh Verbier how you spoil us! With a fabulous ski area, amazing mountain vistas from everywhere in town and lots of events laid on for you all season long (both winter and summer) we are very much in love with Verbier. Here's our pick of some of the highlights on offer in good old Verbs.
Soft Play For Kids – 29 Dec-5 Jan
Head to the Gym de la Comba (next to the Migros supermarket at the entrance to Verbier resort) for free soft play for the kids! Little ones soon get cold and tired on the slopes, so take them for some indoor fun here, with modules and inflatables galore. Suitable for kids from 2 years old and must be under thee supervison of parents at all times.
Verbier Freeride – 3-13 January
It's all happening on and the off piste in January in Verbier! There are two weeks of Freeride qualifiers, followed by the Junior Freeride competition proper from the 11-13 Jan, where youngsters between the ages of 14 and 18 can compete on the big slopes for this coveted competition. Over 3000 young skiers and boarders will be trying to make a name for themselves!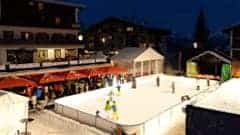 Ice Silent Disco Fridays nights – From 4 Jan
Get down to the Verbier outdoor ice rink behind the Place Central in resort for a slide on the ice with tunes in your ears! Access to the ice rink is free and you can hire ice skates from Medran Sports shop for 5chf. Your headphones are lent to you by the organisers when you leave ID as a guarantee. There are three different channels to listen to whilst you skate, from Rock n Roll, to Disco and Electro & Groove, you choose what to listen to! From 17:00-19:00 every Friday in season.
Audi Quattro Ski Cup – 22-24 February 
A meticulously prepared piste, super-accurate timing (this is Switzerland after all!) and a truly fun ambiance. This is the Audi Quattro Ski Cup on the Attelas piste and it's open all comers. There are two categories: 18-39 year olds and 40+ (scary to admit we are well into the second age band now…). It's free to enter and there are loads of prizes up for grabs too!
Snow Day 4 Bikes – 1 February
Mountain bikes + snow = big fun! Pay 90chf on the day (sign up at the bottom of Savoyleyres or Tzoumaz bubbles) and for that you get access to the pistes with your bike for the whole afternoon and an aperitif early evening followed by a fondue. You then get to do a night time descent back down the mountain where the party continues at the Pub Mt Fort in Verbs or T-Bar in Tzoumaz. Rockin'
Bruson Freeride and Yeti Party – 16 February
Bring out the fat skis for this funky free ride contest that takes place on the slopes of Bruson. Free riders will be carving their lines on the Six Blanc and Pointe de Sesal faces of the mountain under the watchful eyes of the judges. You'll need to ride hard to impress the likes of Xavier de le Rue, Geradline Fasnacht, Emilien Badoux and Yann Rausis who will be marking the runners and riders! Oh and there's a big party late into the night in Le Chable to celebrate afterwards.
Ski Colour – 3 March
This is quite mad. You head up the slopes, pop on a white coverall and glasses and then ski down through explosions of colour. It's a bit like skiing through a live paintball site and the idea is you get covered in a rainbow of colour. This event is happening on the Audi Fun Slope at Savoyleyres and costs just 10chf. It starts at 13:00 and then the party kicks off at 14:00 at the Etablons bar in Tzoumaz.
Verbier Extreme – Free Ride World Tour 23-31 March
The ultimate leg of the World Free Ride Tour rolls into town in the spring. The best free riding girls and boys will be hunting the best lines on the mythical Bec des Rosses. If you've got a ski pass, you can go up and watch. It's always a big event in Verbs and it's the one where the King and Queen of the hill of the whole free ride tour will be crowned.
Carlsberg High Five – 6 April
This year is the 20th anniversary of the Verbier High Five, so expect even more partying on and off the pistes for this celebratory edition! Open to all comers (and the roster of stars that are invited to join in the fun), there are races and challenges for all. The basecamp on the slopes is the area around the Chalet Carlsberg just off the main Attelas piste. It's great fun and there's even a waterslide for you to try. Partying continues off the slopes at the Pub Mt Fort.
So there you have it. Magical Verbier, the glistening resort of the Swiss Alps. It's not the cheapest place, but the combination of slick operations, modern facilities, top-notch pistes and snow canons everywhere, makes Verbier a good bet for a snowy ski holiday. In summer Verbier beats to an altogether more chilled out rhythm, but nonetheless is still a great mountain holiday location. Mountain Drop-offs will take you there on direct transfers from Geneva Airport, with superb views of Lake Geneva from the motorway included!