When you book your Mountain Drop-offs transfer to Meribel you will be heading to the very heart of the famous Three Valleys ski area. Just two hours after leaving Geneva Airport you'll be ordering a vin chaud and excitedly studying the piste map ready for your first day on the slopes of the world's largest ski area.
With the 13 resorts and villages that make up the Meribel Valley very much spread out, it's reassuring that Mountain Drop-offs provides pick up and drop-offs right to your accommodation door. And that's anywhere from Brides les Bains at 600m, to Meribel-Mottaret right at the top, via any of the villages and hamlets in between, like Les Allues and Meribel Village. Sit back, relax and dream of those corduroy pistes, with Mountain Drop-offs you'll soon be there!
Guide section
Meribel Destination Guide
Meribel – a very British ski resort in France!
Meribel is a French ski resort with very British roots. In 1936, Major Peter Lindsay visited Les Allues village to ski the legendary 12km from Saulire to Brides les Bains route that he'd heard so much about. Completely taken aback by the terrain, the sunny exposition and the mountain environment, Lindsay made it his life-long mission to create Meribel as a purpose built ski resort, but with oodles of mountain style and charm.
He even created a charter to ensure constructions use wood cladding and stone with slate roofs – a legacy that stands today, which is why there are no high-rise developments in Meribel itself.
At the heart of the Three Valleys
In essence, there are two main ski resorts in the Meribel Valley: Meribel and Meribel-Mottaret, with over 150km of pistes between them. From Meribel it's just a lift-ride over to Courchevel (on the left of the ski map) and an easy up-and-over to the right to ski Les Menuires and onto Val Thorens, so you really are in the middle of the 600kms of slopes that make up Les Trois Vallees.
When it comes to skiing there's something for everyone and you'd have trouble to ski every piste in a week's holiday. Little ones and beginners are well-catered for, as there are no fewer than 12 different ski schools in Meribel and kids are well-looked after with creches and kids' ski clubs too.
Best bits for all levels of skier in Meribel
Here are some tips to whet the appetite and get you revved up for booking your Meribel transfer with Mountain Drop-offs!
Beginners – learners should head to the area around the Altiport. We love the sunny and easy cruise that is the green Blanchot piste for building confidence and there's a free drag lift for practising on too.
Intermediates – head to Mont Vallon. This area is truly magical, with two lovely wide, speedy runs that are great fun in the morning sunshine. Take the Plattieres bubble to the second stage and head down Bouvreuil, or go to the third stage of the lift and take Cotre Brune.
Advanced – when in Meribel you must do at least one run down La Face. Accessed from the Roc de Fer chairlift, this steep little number hosted the women's downhill skiing in the 1992 Albertville Winter Olympics and is regularly used for FIS and World Cup events.
Activities section
Things to do around Meribel
Vibrant, lively and fun – that's Meribel!
So now you know Meribel is a veritable white heaven for ski and snowboard lovers, what else does this idyllic Alpine resort offer? Well, it's certainly a lively place, with a lot of the entertainment based around sport and food. Whether you want to dine out in fabulous restaurants, or fancy getting your wings, we've got our selection of fab things to do in Meribel to tempt you.
content-activities.php
Meribel boasts some superb eateries with designer decor and innovative cuisine. Splash the cash at L'Erin, the restaurant in the five-star Le Kaila hotel headed up by chef Laurent Azoulay. It's Meribel's first Michelin-starred establishment with one star shining very brightly, thanks to the impeccable service, fine dining and extensive wine list. Then there's Le 80 at the Hotel la Chaudanne famed for its slow-cooked lamb. Le Resto at the Hotel Savoy has great cocktails to go with sumptuous food, whilst the Adray Telebar right on the slopes by the Adret chairlift is still family-owned and run and is a delight (the veal in cream sauce with mushrooms is a perennial favourite).
content-activities.php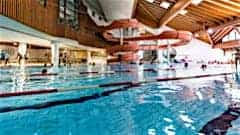 Relax those aching muscles after a hard day zooming around the slopes of the Three Valleys with a visit to the impressive Parc Olympique (open all year) in Meribel. Boasting a Payot spa, jacuzzi, flume, pool, fitness studios, sauna, hamman and ice rink, there's something for everyone. This centre was built for those 1992 Olympics and hosted the ice hockey matches, before being transformed into a leisure centre for all.
content-activities.php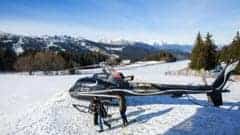 When it comes to places to fly in to, the Meribel Altiport has to be up there on the list of impressive approaches. The airport is home to a very active Aeroclub that flies all year round, with pleasure flights offered around the Three Valleys to give you a real bird's eye view of the resorts and all those mountains. The club also hosts an air show every summer that attracts aviation fans from all over.
content-activities.php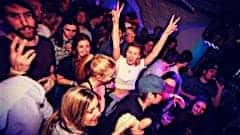 If you're a fan of live music and apres-ski, there are just so many options for you in Meribel. There's the likes of Jack's in Chaudanne, O'Sullivan's Brew Den (the apres part of Sullivans night club, formerly Dick's Tea Bar) and the Barometer Bar, where the legend that is Mutzig is served on draught. If you're in Meribel-Mottaret, the Cafe del Mott is one to try. Back in Meribel Centre, there's the much-loved Rond Point (affectionately know by seasonaires as the Ronny). Lounge on that huge terrace with a view when it's a restaurant at lunch time and then get into the apres-ski scene as the day comes to an end.
content-activities.php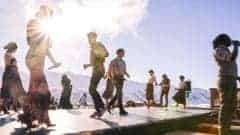 So big it deserves its own listing – it's La Folie Douce Meribel! Just adjacent to the Saulire Express mid-station, this is where the party starts and ends on the slopes, every single day. With live music, dancers and DJs entertaining the crowds from 15:00 to 17:00, you'll end up taking off your big heavy boots and dancing on the bar for sure, even if you told yourself you wouldn't!
Events section
Upcoming events around Meribel
Meribel, Meribel-Mottaret and the surrounding villages (all served by Mountain Drop-offs, we might add!) love to ski hard and party hard too. Whether it's a world-class sporting event, a night under the stars dancing, or a workshop that the kids will love to take part in, there is always lots to do in Meribel.
Now you've heard all about Meribel as a winter ski destination, it's worth mentioning that summer is also pretty cool in Meribel too, with the 18-hole golf course, tennis courts and varied mountain biking terrain to discover. And remember, Mountain Drop-offs carries golf clubs and up to five bikes on transfer buses for free and skis/boards are carried for no extra cost as well. So what are you waiting for? Get those flight to Geneva Airport booked and visit Meribel any time of year!